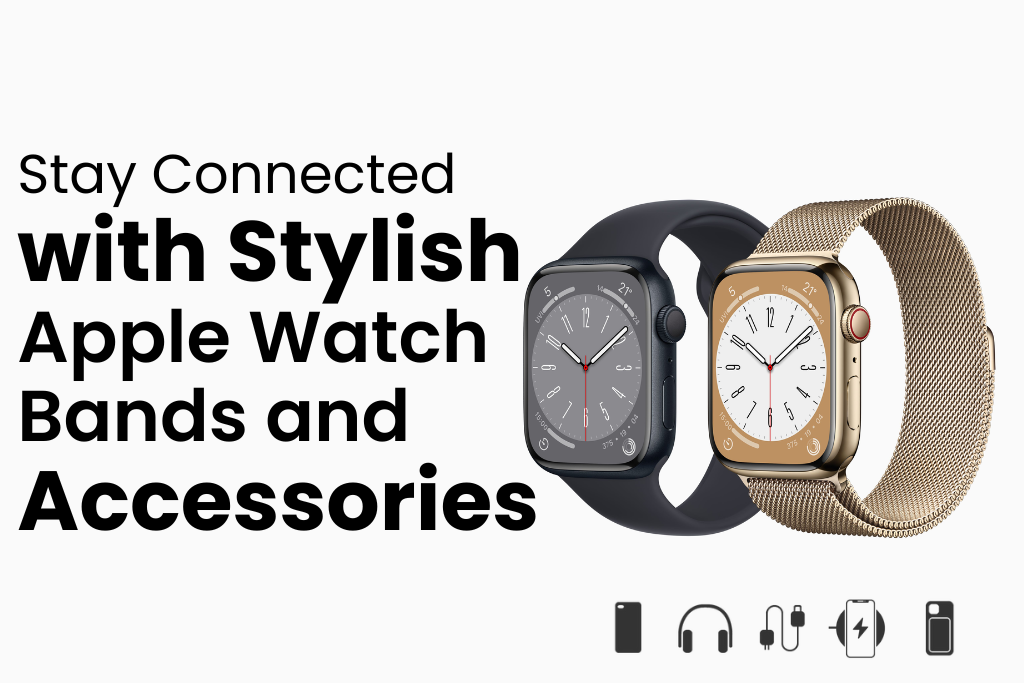 Wrist watches these days are more than just an accessory to display time. With the rapidly changing technology, watches have evolved into smart devices that not only display time but serve various other purposes. There are several brands offering various features, but the most renowned among these is the Apple watch. It not only provides a wide range of features and functionality, but it also lets its wearers make a fashion statement.
The Apple Watch is yet another example of how Apple consistently lives up to its reputation for creating high-quality products. Users can get notifications, texts, and calls with just a quick glance at their wrists because of the flawless connectivity with the iPhone and other Apple devices. Whether you are a fashionista, a professional, or a fitness enthusiast, there is an Apple Watch model and accessory for everyone.
Since its release in April 2015, the Apple Watch has been one of the best-selling smartwatches internationally. When compared to other smartwatch brands, the Apple Watch has the biggest market share, making it the industry leader.
What makes Apple Watches unique?
There are a wide range of distinctive features and functionality which makes these watches unique and a must-have accessory. Some of these features include:
Sleek design

Complete compatibility with other Apple products, including iPhones, iPads, and Macs

Customization options
Health and fitness tracking
In addition to the above, there are a wide range of features that users of Apple watches can experience. Also, if there are any issues with your smartwatches, finding a trusted services center to fix the problem is also not a challenging task. Any iPhone repair center will be able to address the issue. You can also search on Google for iPhone repairs near me, and you will find Genius CPR with its branches spread across 3 states.
Apple's selection of bands and accessories has grown dramatically. Bands now come in a wide range of styles, materials, and colors to accommodate different tastes. There is a band for every situation and mood, from traditional leather bands for an elegant appearance to sporty and breathable bands for active lifestyles. From classic leather bands for an exquisite appearance to sporty and breathable bands for active lifestyles, there is a band for every circumstance and mood.
The stylish charging docks and screen protectors are an added advantage to protect the watches from scratches or any other damage. In any event, if one finds that the screen is damaged you can still look up on the internet for "fix screen near me" to find your nearest service center.
The fitness and wellness features of the Apple Watch have been quite helpful in maintaining a healthy lifestyle. It has been a popular device among users who are concerned about their health because of features like heart rate monitoring, ECG, fall detection, and workout tracking.
Users can now match their Apple watch with their mood or wardrobe. Apple has unveiled a wide range of watch faces, from retro analog styles to animated characters, users have the freedom to customize the look of their watch since they can quickly swap between watch faces with a single press. The market is inundated with products that Apple Watch users may use to enhance their experience, from GPS trackers to portable chargers and designer cases.
The Apple Watch has shown to be both a potent smartwatch and a fashionable accessory that goes with a variety of looks and lifestyles. Users may personalize their Apple Watch to meet their preferences and needs with a wide variety of bands and a wide range of compatible accessories. The Apple Watch continues to be a popular gadget that enables its wearers to embrace technology without sacrificing flair, whether it's for health tracking, work, or simply remaining connected. When it comes to repairs, you have trusted centers such as Genius CPR where you can be assured that all your expensive Apple devices are in the best hands.