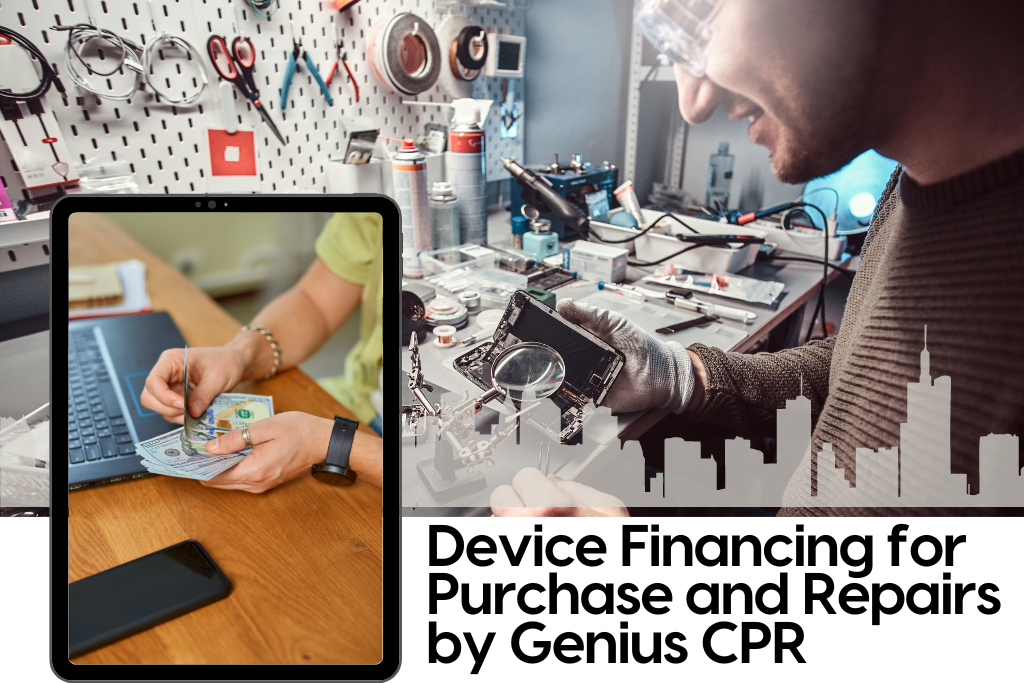 Smartphones, laptops, and tablets are popular digital devices used for many purposes including education and mobile commerce; however, their affordability is out of reach for many people worldwide. Device finance offers customers a way to purchase items that may seem out of reach, eliminating the need for a large down payment. Genius CPR offers innovative financing solutions for customers to purchase or repair smart devices, addressing financial constraints and enabling them to acquire or fix their devices without compromising their budget.
Genius CPR offers device financing to meet diverse customer needs, offering flexibility and convenience in managing electronic device expenses. It offers financing options for purchasing new devices or repairing existing ones like iPhone, Macbook, iPad, etc., and making these services accessible to a wider audience. Genius-50 offers affordable Device Payment Plans (DPP) and Repair Payment Plans (RPP), with financing choices starting at $50 down and durations ranging from 4 weeks to 24 months. The down payment covers the total device purchase or repair cost, and the application process is managed through the Genius Concierge Portal.
Genius CPR emphasizes transparency in device financing to ensure that customers are aware of terms and conditions including interest rates, repayment plans, and fees. Being transparent promotes confidence and enables customers to make wise financial commitment decisions. Genius CPR offers a range of financing plans that let customers spread out the expense of purchasing or upgrading devices over budget-friendly monthly payments. It lessens the initial cost burden and makes it possible for people to stay abreast with technology without too much strain on their wallets.
Additionally, Genius CPR offers financing for gadget repairs like iPhone camera repair, MacBook screen repair, iPhone water damage repairs, etc., realizing that unforeseen malfunctions or damage might interfere with daily life. Customers can choose financing options designed exclusively for repairs rather than struggling to decide whether to fix a device or buy a new one. It ensures that individuals can restore their devices without causing significant monetary loss or depletion of their savings. Customers can apply for device financing through Genius CPR's simple online or in-store approach, which ensures speedy approval for purchases or repairs of smart devices tech stress-free, as Genius CPR is best in service.