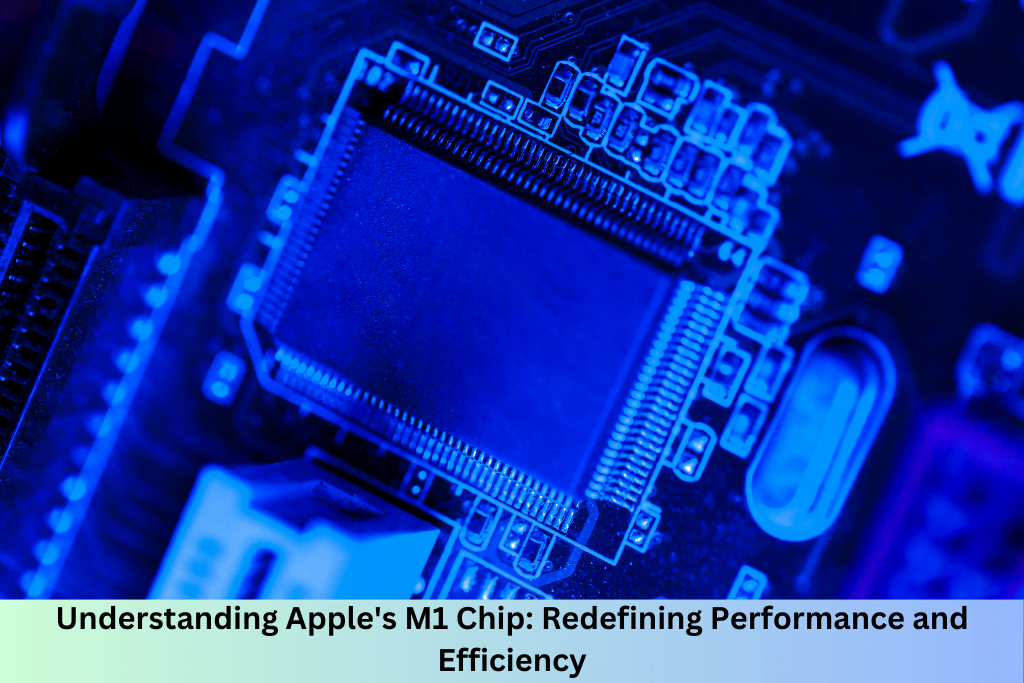 With the launch of its own custom designed M1 processor in November 2020, Apple made a ground-breaking announcement that marked a meaningful change in the company's hardware approach. The MacBook Air, MacBook Pro, and Mac Mini are all powered by Apple's M1 chip, which was created using the ARM architecture. This avant-garde technology has transformed the way users interact with their gadgets by redefining the performance and efficiency requirements in the computing industry.
At the core of the M1 chip is a spectacular integration of key components, which includes the CPU, GPU, Neural Engine, and a unified memory architecture. With this type of integration, each chip no longer requires a separate chipset, thus allowing for improved efficiency and reduced power consumption. Apple was able to fit a tremendous number of transistors onto the M1 processor utilizing a 5-nanometer manufacturing technique, leading to previously unheard-of performance advantages.
One of the most impressive features of the M1 chip is its CPU performance. The M1 chip offers a perfect balance between power and energy efficiency. This is attributable to the 8-core CPU, which is made up of four high-performance cores and four high-efficiency cores. Toprovide a seamless and power-efficient user experience, the high-performance cores handle intensive tasks like video editing and gaming while the high-efficiency cores handle routine tasks. The capacity to handle even the most resource-intensive programs with ease is provided by this design's exclusive ability to multitask seamlessly. These features make Apple devices the most popular choice among the masses irrespective of repair concerns. However, the devices are prone to damage or malfunction with continuous use. So, whether you are looking for a MacBook repair or an iPad repair, whether you are staying in Grandville or Kentwood, you can search on the internet for iPhone repair Grandville or iPhone repair Kentwood and you will find Genius CPR as the best cell phone repair store.
Furthermore, the M1 CPU also consists of an 8-core GPU, which offers outstanding graphics performance for activities like gaming, 3D rendering, and picture and video editing. According to Apple, the GPU in the M1 processor can produce graphics performance that is up to two times faster than that of earlier Mac models. This level of graphics power on a power-efficient processor has proven to be ameaningful change for creative professionals and gamers, as it allows them to accomplish their work and entertainment goals with unprecedented speed and precision. Most professionals in the creative and gaming industry opt for devices such as Mac Desktops and notebooks, MacBook Air, iPad Pro, iPad Air tablets without having to worry about repairs. In the event of not being able to afford a new device, one can still opt for refurbished devices at stores like Genius CPR that not only offer refurbished devices but are also the best when it comes to cell phone repair.
The M1 chip also incorporates a 16-core Neural Engine which is tailored for machine learning activities. Various AI-powered features, including real-time voice recognition, natural language processing, and picture analysis, are possible by this neural engine. The M1 chip's Neural Engine helps applications that use machine learning algorithms, perform quicker and more accurately in tasks like language translation, facial recognition, and photo editing
The M1 chip redefines efficiency in the computing industry in addition to its amazing performance capabilities. The M1 chip has an elevated level of energy efficiency because of its integrated design and innovative manufacturing method. For portable devices like the MacBook Air and MacBook Pro, this translates into greater battery life, enabling users to work or consume multimedia content for prolonged periods of time without needing to recharge. In any event, if there is an issue with the battery not being charged properly or any other issues, you have trusted service centers such as Genius CPR that has experts for MacBook repair, iPhone repair, battery replacement, and are the best to address any issues with apple products and smartphones.
Another contributing factor to the efficiency of the chips is the unified memory architecture. Data access is quicker with the merging of memory and storage on a single chip, improving performance and power efficiency. The M1 chip's design also makes it possible for Macs to wake up from sleep instantly, giving consumers a smooth and responsive experience.
Undeniably, Apple's M1 chip has marked a new standard for productivity and performance in the computing sector. Its convergence of the CPU, GPU, Neural Engine, and unified memory architecture enables significant levels of constructive collaboration and optimization. The M1 chip has revolutionized the Mac experience with its incredible power and energy efficiency, giving lightning-fast performance, increased battery life, and new opportunities for creative professionals, developers, and regular users alike. We may anticipate even more ground-breaking developments that push the limits of what is possible in the world of computing as Apple continues to improve and refine its bespoke silicon.