Easy and Simple Tips to Maintain your Cell Phone and Laptop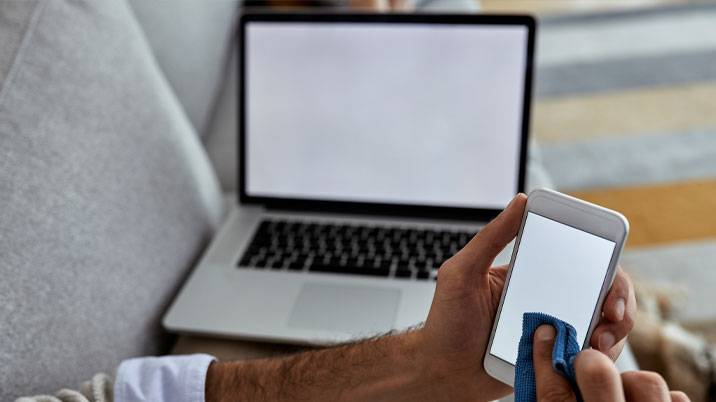 Working from home, a trend started during the lock-down due to Covid, resulted in people using essential apps on their smartphones. Covid has made us rely on our laptops and phones even more than we did before. Millions of students began taking online classes, online payments were made for food and groceries, video calls to the doctor for problems other than Covid 19 – the phone / laptop was the only lifeline. Maintaining our technological devices, as we begin to rely on them more, is essential. Follow these simple, yet effective, steps to maintain the lifespan and durability of your cell phones and laptops.
You can use basic household cleaning supplies to clean your laptop and cell phone. Use a microfiber cloth, a can of compressed air, cotton swabs, a clean towel, and at least 90% isopropyl rubbing alcohol.
Tips to Clean your Device
Follow these steps to get your Cell Phone / laptop nice and clean:
For laptops, detach your battery, wipe it down with a microfiber cloth, and blow out the dust using a can of compressed air.
Wipe down the screen with the same cloth to remove any smudges.
Use the compressed air to spray in between the keys on the keyboard (in case of laptops) and into the USB ports.
Dip a cotton swab into the isopropyl alcohol and use it to gently wipe down the outside of the laptop.
Wipe the Cell Phone / laptop down using a clean, dry towel.

You should avoid using wet wipes, detergent, or any harsh chemicals when cleaning your laptop or tablet. A simple can of compressed air and a dry towel can really work wonders!
It's equally important to take care of your cell phone / laptop properly. After all, you don't want to just throw it in a drawer somewhere and let it overheat.
Avoid Extreme Temperatures
A laptop or a Cell Phone, like any piece of technology, won't operate as well if it's extremely hot or cold outside. Keep it out of direct sunlight and definitely out of snowstorms!
Unblock the Air Vents
You can store your laptop or Cell Phone vertically or horizontally as long as you ensure the air vents aren't blocked. This is ultimately what keeps your device from overheating.
Place on a Stable Surface
Unless you're on a mountaineering expedition, there's no reason why you shouldn't keep your devices on a flat, stable counter or table.
Be Mindful With Food & Drinks
Even if you're super careful, it's still easy for accidents to happen! Save yourself a serious headache by keeping open drinks and messy foods away from your technology.
Keep Out of Reach of Children (and Pets)
Kids and pets have no idea how much you spent on your gadget. When your device is not in use, keep it out of reach on a high shelf.
Carry in a Bag or Case
Laptops and cell phones are portable and easy to take on the go. Invest in a stylish carrying bag or case for the job!
Tie Cords
Are you done working for the day? Fold the cables and secure them with a zip tie, piece of Velcro, or rubber band.
A few simple tips will keep your laptop and Cell Phone in good working condition. Take the time to really make sure you're putting them away properly to ensure proper safety. 
Genius CPR Trusted name in repair service for iPhone and laptop repairs. For details, please visit