Why visit a repair store for your tech devices?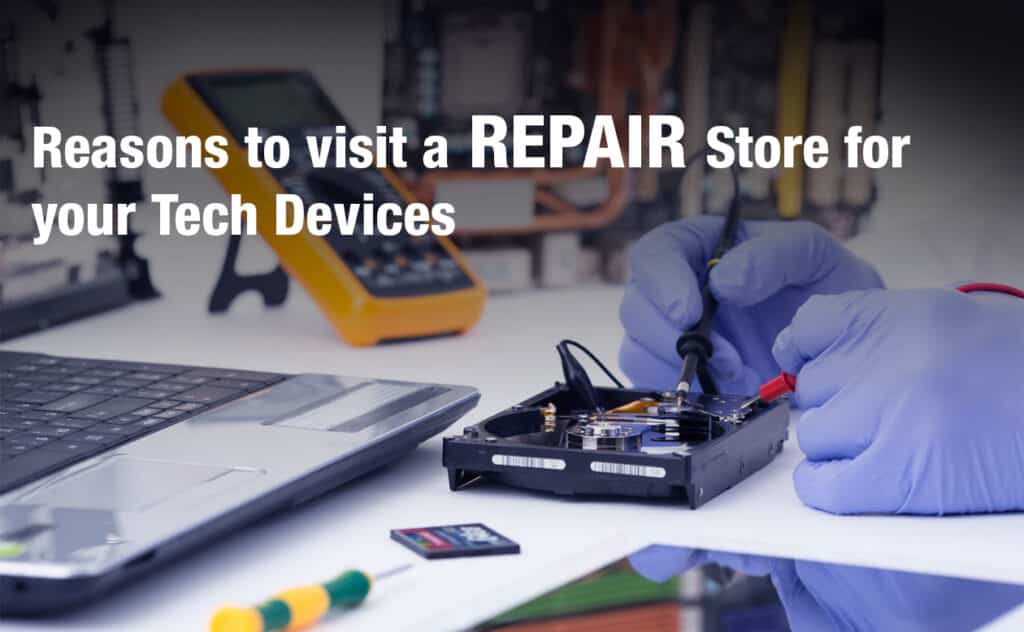 Why should you visit a repair store for your broken devices? Check out our Tech Tuesday to find out.
Many tech devices are being unveiled for consumers very frequently, designed to make life sophisticated, safer, comfortable, and entertaining.  However, there's a downside too as most of the tech devices are challenging, for most people to fix, hence lasts a few years before becoming e-waste. With new ways emerging in the manufacturing, most of the components are being glued.  The trend has spread beyond smartphones to computers and laptops where components are glued together, so when one component fails, a consumer has to send in the entire thing for repair. Especially with laptops, both the memory and the hard drive now are part of motherboards.  The technology is getting so much upgraded that repairs are becoming a challenge and in a way forcing people to buy a new device instead of upgrading an old one.
For the recent addition of the new smartphones or other devices like laptops, getting into a device has become more challenging.  For example, in 2011 Apple started using five-pointed screws known as pentalobe screws for iPhones, which couldn't be opened with a standard screwdriver; therefore disassembling the iPhone 12 for repair requires four different types of screwdrivers, says the experts. Hence for iPhone repairs we need to visit the respective repair store for the simple reason that we are unqualified technically to do the job and also do not possess the necessary tools.  Hence it is quite common among people to get their tech devices repaired at the respective service centers of the particular brands or other certified technicians. Genius CPR has the best technical experts who can fix the repairs like broken screen replacements for smartphones or iphones battery repair and has excellent customer service.
Tech repairs by the experts at the right stores have gained importance.  Irrespective of the problem/repair, the professional technicians on board will diagnose the actual problem and fix them accordingly. Irrespective of brands the technicians make use of state-of-art tools and technologies to fix iPhone screen replacement or battery replacements and get your devices fixed at the earliest.
Cost and time taken for the repairs is also an important factor. Repairing rather than replacing the tech devices usually saves owner's money. However, in recent times some of the devices are priced so cheap that repairing them doesn't make financial gains.
For example, printers which are deliberately sold at lower prices by the manufacturer so that they make good profits on ink or toner cartridges. Apart from the company service centers or authorized repair centers, there are several companies who offer tech devices repairs and have the required expertise to do so.  Genius CPR is one such store which offers the best services in smartphones and computer repairs. For any kind of iPhone repairs or laptop repairs, just drop into your nearest store and the rest becomes a hassle and stress free experience. For more details check our Tech Tuesday. smartphones