Changing the Game: Technology Utilization in the NFL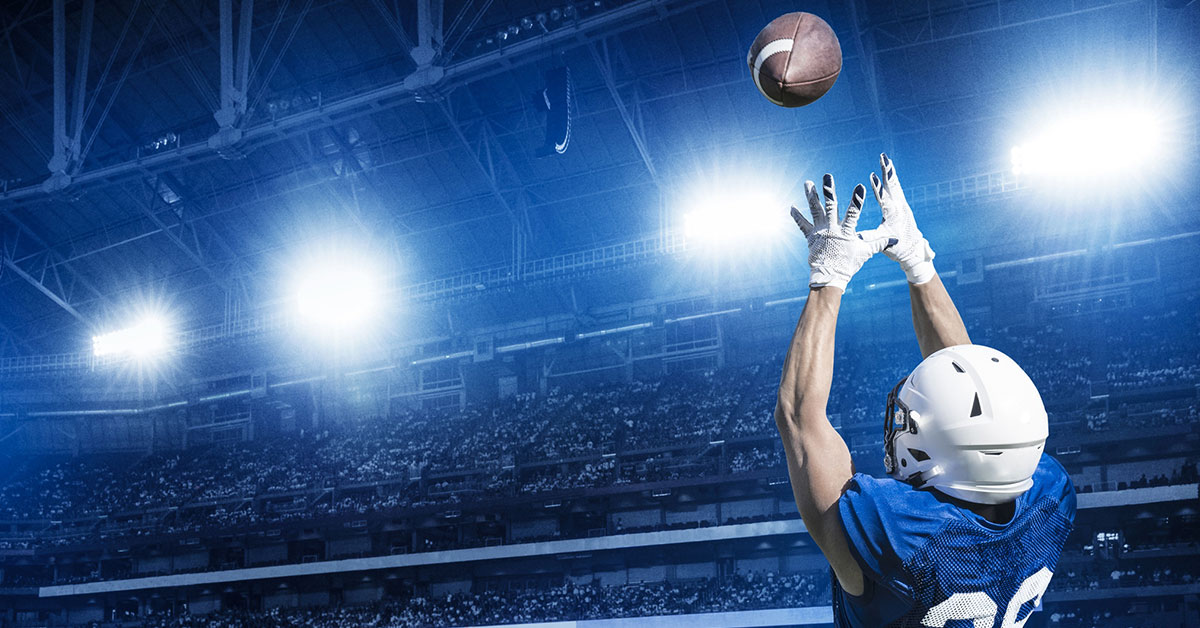 The eSports Ultimate Madden Bowl ends today, which can be read about here, as excitement for Super Bowl LVI begins. February 13th, the Los Angeles Rams take on the Cincinnati Bengals at SoFi Stadium in Los Angeles. The Super Bowl is the most watched sporting event in America. In 2021, the Super Bowl attracted 96.4 million viewers. While we sit back drink a beer and eat all our game time snacks, the NFL is working to provide the best watching and playing experience for viewers and players. This week we are going to take look at NFL tech that helps create this experience. 
NFL Next Gen Stats
Did you know that the fastest ball carry for the Bengal's this season was 21.74 mph? Or that Mathew Stafford's time to throw was, on average, 2.8 seconds? New technology has made it easier to track player stats and ball movement while they are out on the field playing. Next Generation Stats gathers live data. The data analyzes trend and players performance such as ball speed, time to throw, completion probability, and more. The data can automate player reports, calculate performance metrics, and derive other advanced statistics. 
This, however, poses the question of how the NFL tracks these data points without interfering with player performance? Zebra Technologies, Wilson Sporting Goods, and Amazon Web Services (AWS) work together to generate the data. Every NFL venue has 20-30 has ultra-wide band receivers and every player has 2-3 radio-frequency identification (RFID) tags installed in their shoulder pads. RFID tags are also installed on officials, sticks, chains, pylons, and in the ball. Machine learning analyzes the data streaming from the RFID tags in real time and reports it to viewers and coaches. Next Gen Stats gathers over 200 data points every play, every game and over 300 million data points every season.
Tech on the Sidelines
Before technology, the NFL had printers on the sidelines that would print plays. Coaches would then use three-ring binders to flip through black and white photos to make decisions. This method was quite time consuming. Now, however, the sidelines have adapted to new technology. Microsoft has partnered with the NFL to provide sideline tablets that provide high-resolution images almost instantaneously. These tablets are good for reviewing plays, well unless you are upset at the play…Tom Brady.
The Microsoft tablets and the sideline viewing app allows coaches to review plays live. Coaches can also make annotations and tag favorites. Introducing technology to the sideline allows for a more efficient and accurate way to review and call new plays. There are about 2,000 Microsoft Surface devices being used by players and coaches. Microsoft created off-the-shelf tablets for the NFL. Microsoft had to ensure that their tablets could endure the tough and changing weather during NFL seasons. The tablets had to be able to withstand heat, snow, rain, and glares. The NFL league configures the tablets, so they are identical for all teams to ensure no team has a competitive edge. 
Player Safety
Football is one of the leading sports in concussion incidences. Technology has been able to better help detect concussions and prevent further injuries. Microsoft tablets can help trainers treat and diagnosis players throughout the game. Trainers use the tablets to store medical records which makes them accessible during the game and while traveling. Trainers also use the X2 Biosystems' concussion assessment app that helps trainers decide whether to let players return to the game.
The NFL is also using Artificial Intelligence to help predict and prevent injuries that athletes may incur. The NFL has already partnered with AWS for Next Generation Stats. AWS technological capabilities, mainly machine learning, cloud computing, and artificial intelligence, can be used to advance player health and safety as well. This partnership allows AWS to use data from the NFL including player position, equipment choice, playing surface, and more to replicate infinite scenarios in a game environment. The data gathered using AWS can help improve the treatment and rehabilitation of the athletes. 
The NFL and AWS would like to use this technology and data to better understand and prevent injuries. This partnership is working to use existing data to develop computer models that detect the occurrence of concussions. This will allow them to better understand concussions and the forces behind them. This technology can eventually expand to other injuries. Additionally, this data helps with the manufacturing of football equipment to help protect players.
Conclusion
Technology is paving the future of sports from eSports to technology at the Winter Olympics to technology used in the NFL. The NFL has made strides to help protect their players and provide a more efficient way to gather and understand data. I can only expect that the NFL will continue to innovate to improve the safety and game experience for players, coaches, and viewers. Super Bowl LVI is five days away. Be sure to take our GeniusCPR Super Bowl Trivia to be entered for a chance to win a $1,000 cash prize. Continue to tune into our Tech Tuesdays to learn about new technological trends, devices, and tips. In the meantime, if you have any questions regarding your technological devices, stop into your nearest GeniusCPR locations and one of our employees will get you taken care of.